Mepreneur Making OF
Wirf einen Blick
hinter die Kulissen
In unserer Making of Serie werden immer neue, spannende und aktuelle Behind the Scenes Einblicke geteilt.
Kriss erklärt dir, wie sie ein neues Programm entwirft, ein Projekt abschließt oder das Business intern umstrukturiert. Hier zeigen wir dir von A bis Z, wie wir bestimmte Themen intern bearbeiten.
Unser Aktuelles Making Of
BUILD | So entstand unser Premium Programm
Von der Idee bis zur ersten Buchung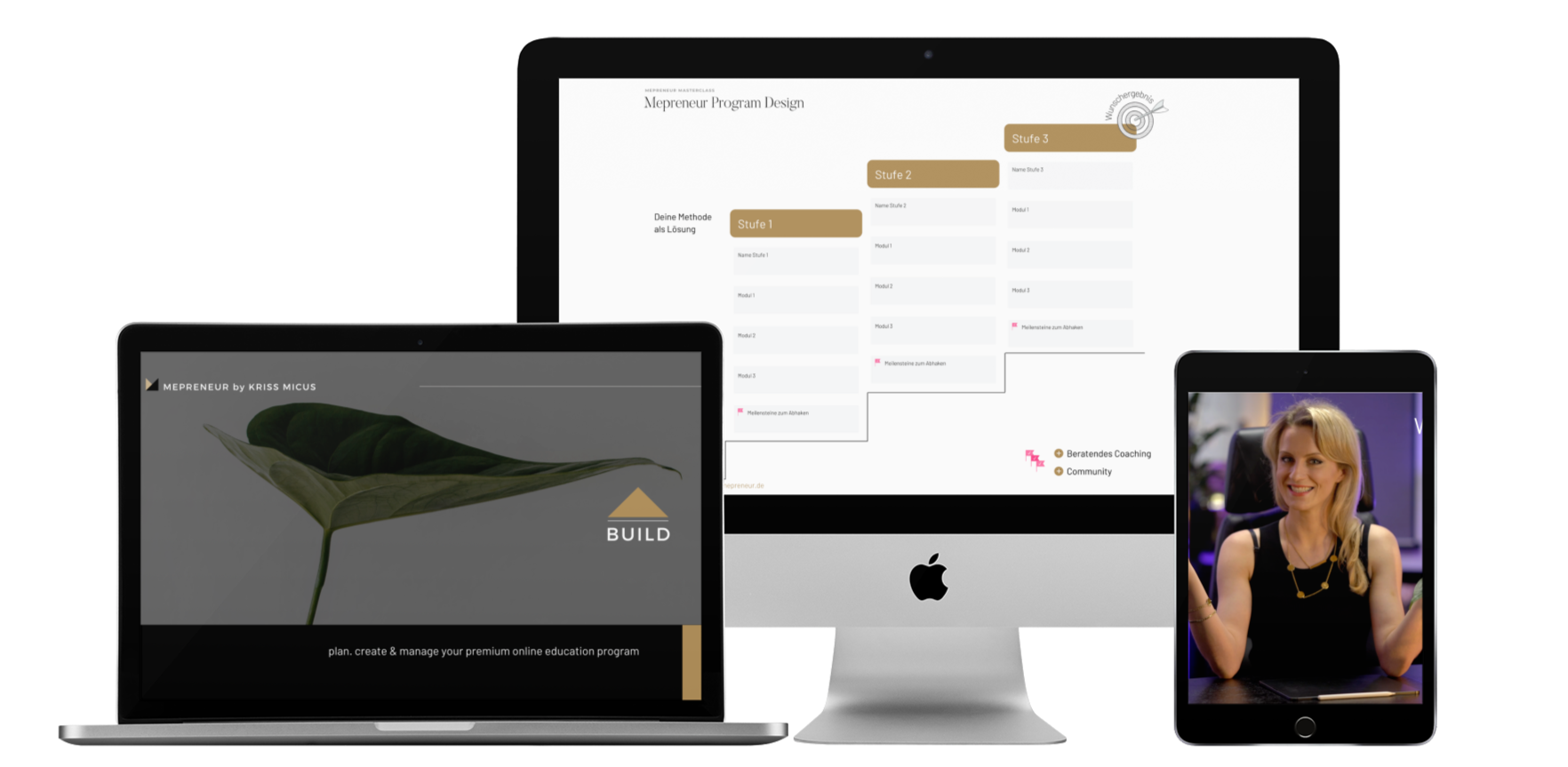 D
i
e auf unserer Website und in den sozialen Medien dargestellten Erfahrungsberichte, Aussagen und Meinungen gelten für die abgebildeten Personen. Die Ergebnisse können variieren und sind möglicherweise nicht repräsentativ für die Erfahrungen anderer. Die Testimonials sind repräsentativ für die Erfahrungen der Kunden, aber die genauen Ergebnisse und Erfahrungen werden für jeden Kunden einzigartig und individuell sein, basierend auf seinen eigenen Bemühungen und Aktionen innerhalb des Programms.
Während wir das höchste und beste Niveau an Wissens- und Strategievermittlung anbieten, wie es im Rahmen der Vereinbarung vorgesehen ist, kann die Mepreneur GmbH, wie bei jedem Programm, keine Versprechungen oder Garantien in Bezug auf ein Ergebnis aus der Teilnahme am Mepreneur Programm geben und daher können und werden wir keinen Erfolg oder ein bestimmtes Einkommensniveau oder Ergebnisse in Verbindung mit den angebotenen Leistungen garantieren. Du verstehst, dass du letztendlich für deinen eigenen geschäftlichen Erfolg verantwortlich bist und dass dieses Programm dazu gedacht ist, dein Geschäft zu verbessern, zu ergänzen und zu unterstützen, damit du wachsen kannst.